Lake Chapala Center for Spiritual Living supports each of us and the community as a whole in living from the Divine Presence.
We are a trans-denominational, inter-generational, not-your-parent's spiritual community. We provide a safe place for "the rest of us" who are looking to connect with God/Higher Power/Universal Presence, but don't really fit in with any one group. Though we celebrate age-old spiritual traditions from around the world, our message and delivery are modern and down to earth. So relax, have fun, and look around — chances are you'll see people just like you.
---
What We Believe – our Guiding Principles
We believe that the universe is spiritual and has intelligence, purpose, beauty and order. Our beliefs are in harmony with all the world's great spiritual teachings, and we honor all paths to God. Whether we call it God, Spirit, Higher Power, Energy or Universal Intelligence, we are ever conscious that all people, places and things emanate from this Universal Intelligence that is within us and all around us.
You and The Divine are Inseparable
We believe that Spirit is a Loving Intelligence, operating in and through all life, never separate from anyone or anything. Through study and spiritual practice we come to understand our oneness with this indwelling Divine Presence. We teach and practice a way of life where we can all learn how to live in accordance with spiritual principles. We believe in Cause and Effect and teach that "It is done unto you as you believe." In essence, your thinking and your expectations create your reality. By studying and applying spiritual laws, you can change your unconscious beliefs and create improved conditions in your life.
The New Thought tradition dates from the 1880s and has its roots in the Transcendentalist Movement of the 1820s. New Thought has an enduring and respected legacy that includes luminaries such as Ralph Waldo Emerson, Emma Curtis Hopkins, Ernest Holmes, Phineas Quimby and Walt Whitman. Some of the better known authors today whose writings represent our teachings are Michael Bernard Beckwith, Deepak Chopra, Wayne Dyer, Byron Katie, Marianne Williamson and Eckhart Tolle, as well as many others. Our teachings incorporate the ancient wisdom of all the spiritual traditions through the ages. People of all spiritual paths – Christian, Jewish, Buddhist, Hindu, Muslim, New Age and others are welcome in our community.
Be a Part of an Inclusive Community
Lake Chapala Center for Spiritual Living teaches a New Thought philosophy that incorporates affirmative prayer, meditation, healing, visioning and other spiritual tools to help you lead a spiritual life, think positively and love deeply. As a member of our community you'll find the spiritual tools to transform your personal life and make the world a more peaceful, harmonious and prosperous place.
Websites of Interest
Centers for Spiritual Living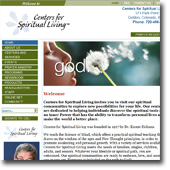 Religious Science